View larger
GIGABYTE GeForce GTX 1080 Ti 11GB GDDR5X
N82E16814125955
New product
Warning: Last items in stock!
Availability date:
GeForce® GTX 1080 Ti Gaming OC 11G
GV-N108TGAMING OC-11GD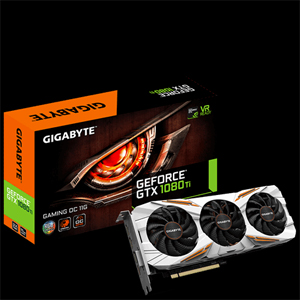 Features

Powered by GeForce® GTX 1080 Ti
Integrated with 11GB GDDR5X 352-bit memory interface
WINDFORCE 3X Cooling System
RGB fusion – 16.8M customizable color lighting
Built for Extreme Overclocking 8+2 Power Phases
Core Clock

Boost: 1657 MHz / Base: 1544 MHz in OC mode
Boost: 1632 MHz / Base: 1518 MHz in Gaming mode
(Reference Card Boost: 1582 MHz / Base: 1480 MHz)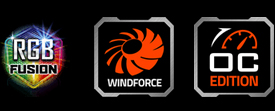 Be Different. Be Unique.
Dare to stand out with a clean, white build in style. Crafted in elegant white finish with orange accent, the GTX 1080 Ti Gaming OC is a perfect match for those who are building not just a gaming rig, but rather a stunning masterpiece.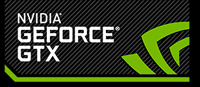 Ultimate GeForce
The GeForce® GTX 1080 Ti is NVIDIA's new flagship gaming GPU, based on the NVIDIA Pascal™ architecture. The latest addition to the ultimate gaming platform, this card is packed with extreme gaming horsepower, next-gen 11 Gbps GDDR5X memory, and a massive 11GB frame buffer.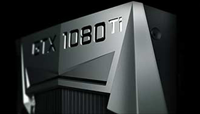 Performance
The GeForce® GTX 1080 Ti is the world's fastest gaming GPU. 3584 NVIDIA® CUDA® cores and a massive 11GB frame buffer deliver 35% faster performance than the GeForce GTX 1080.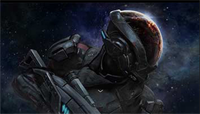 NVIDIA Pascal
GeForce GTX 10-Series graphics cards are powered by Pascal to deliver up to 3X the performance of previous-generation graphics cards, plus breakthrough gaming technologies and VR experiences.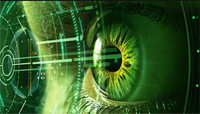 VR Ready
Discover next-generation VR performance, the lowest latency, and plug-and-play compatibility with leading headsets-driven by NVIDIA VRWorks™ technologies. VR audio, physics, and haptics let you hear and feel every moment.
WINDFORCE 3X COOLING SYSTEM
The WINDFORCE 3X cooling system features 3 unique blade fans, 5 composite copper heat pipes, heat-pipe direct touch and 3D active fan functionality, together delivering an effective heat dissipation capacity for higher performance at lower temperatures.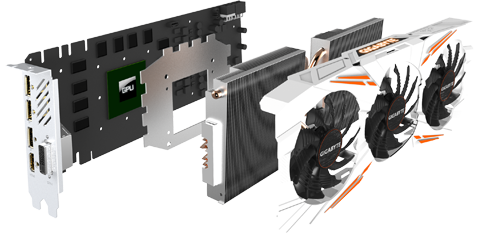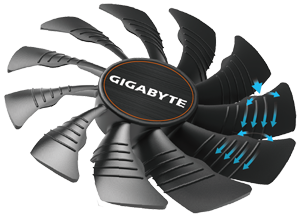 UNIQUE BLADE FAN DESIGN
The airflow is spilt by the triangle fan edge, and guided smoothly through the 3D stripe curve on the fan surface, effectively enhancing the air flow by 23% over traditional fan.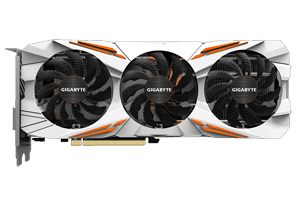 3D ACTIVE FAN
The 3D Active Fan provides semi-passive cooling, the fans will remain off when the GPU is under a set loading or temperature for low power gaming. It allows gamers to enjoy gameplay in complete silence when the system is running light or idle.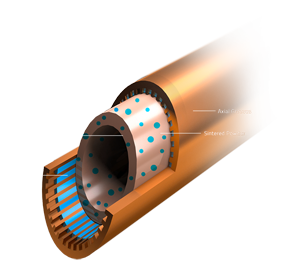 COMPOSITE HEAT-PIPES
The composite heat-pipes combines both thermal conductivity and phase transition for efficiently managing the transfer of heat between two solid interfaces which increases 29% of cooling capacity.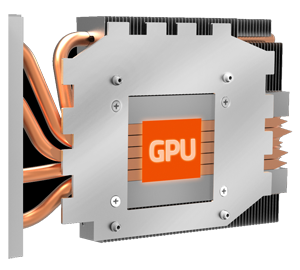 HEAT PIPES DIRECT TOUCH
The pure copper heat pipes are shaped to maximize the direct contact area to the GPU for enhanced thermal transfer. The heat pipes also touch a large metal base plate covering the VRAM module via thermal pads to ensure the critical cores are properly cooled.

GAME IN STYLE
RGB FUSION
With 16.8M customizable color options and numerous lighting effects, you could now choose the right scheme for your gaming rig through AORUS graphics engine.

CYCLING
Smoothly cycles through all colors

CONSISTENT
Choose a color for static light

FLASH
Choose a color for flash effect

DUAL FLASH
Choose a color for double flash effect

BREATHING
Choose a color to fade in and out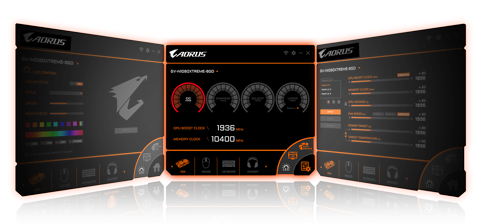 We are Almost Done Updating the Return Policies and Terms & Conditions.
Please bear with us.
Copyright © 2015 - Atlas IT - All Rights Reserved